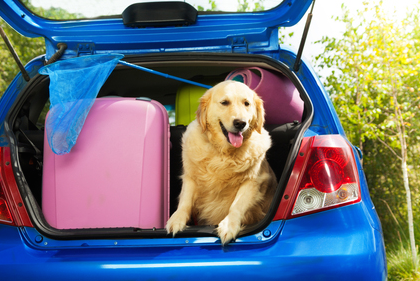 If you're planning a big move to another part of the country due to a change in employment, you're not alone. About 36 million Americans moved between 2012 and 2013, according to the U.S. Census Bureau. Now, the vast majority of these people relocated fewer than 50 miles away from their old residence; only one in four moved more than 500 miles to a new location. Of course, in the rush to get everything ready and tie up any loose ends, it's easy to forget to prepare your car for the trip. Use these helpful tips and apps to make your cross-country drive go smoothly:
Start With a Healthy Car
It's a good idea to have your vehicle looked over by an experienced mechanic. To save money, however, you can perform these basic maintenance tasks yourself:
Fluids. All fluids should be changed according to your vehicle's maintenance schedule. However, if you haven't had a radiator flush yet, get that done.
Belts and hoses. Give your engine's belts and hoses a thorough once-over for cracking, bulging, fraying and any other signs of damage or aging.
Tires. Inspect the tread and make sure your tires are properly inflated and in good condition before you set off on any road trip. Worn tread and dry rot causes poor handling and could cause a blowout while you're on the road. If you need a new set, TireBuyer sells BF Goodrich tires in a variety of performance categories starting at $77 each.
Battery. Test your battery's charging capability at a local auto supply store. Keep in mind that the average battery has a lifespan of three to five years, so if it's been at least that long since you've last replaced it, now is the time to do just that.
Apps for the Road
Before you set off on your cross-country trek, download the following apps to your smartphone to make your journey easier and more exciting:
GasBuddy. This app is an indispensable tool on any journey, no matter how long. Available for Android, Blackberry and Apple, GasBuddy offers a comprehensive user-generated listing of gas prices throughout the U.S., giving travelers the opportunity to find the cheapest gas available.
AAA Mobile App. AAA's Mobile App offers a comprehensive listing of AAA-approved restaurants, hotels and much more, along with charging stations, AAA office locations and member discounts for businesses at over 114,000 locations.
Priceline Negotiator App. Available for Apple and Android, this app gives you access to a wide variety of exclusive "tonight-only deals" from more than 200,000 hotels. You can also save up to 60 percent on many hotels thanks to the "Name Your Own Price" feature, according to Priceline.com.
Christopher Driscoll is an English major and freelance writer who commutes to school every day.