PCSing?  A family meeting will help you inform the kids.  If you and your family are about to embark on a PCS this year, telling your kids can be a challenge.  You may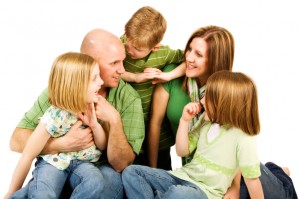 have already done this many times or this may be your first.  Either way, having a comfortable place to discuss the upcoming move is so important and you want them to hear it from you first.  Having a family meeting with the TV off and in your home will give the kiddos the attention they need and deserve as you tell them the news.  Telling them at home allows them to deal with their feelings in a comfortable setting.  It is never easy to break the news and as your children get older, it gets harder.  However, you set the tone for the move.  Stay positive.  Discuss options with your older children so they feel apart of the process.  It may take a few days or weeks, which you may or may not have for them to digest it but making the effort to include them makes a big difference.
There are tools that you can use to help your children cope with the move and feeling of displacement.  Remember, even though your child may be a PCS 'veteran', each move poses a challenge depending on their age and connections to the community.  Therefore, you may find that one PCS may impact them greater than another.  I have found that with my three boys, journaling made a big difference.  My Moving Journal for Kids is a great tool for children and parents.  It gives you an opportunity to check in with your child at the end of each chapter to see how they are doing.  Check with your local family resource center on base to see if they have these available to you.  Shameless plug.  I know but you can easily use a notebook too.  Either way, find time to give your child the attention they need to make a successful transition.