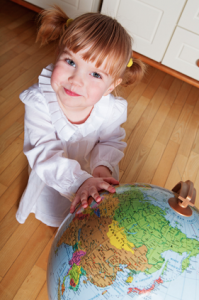 Moving abroad?  Here are six ways to lower your kid's anxiety.
Perhaps Buckaroo Banzai said it best with "Wherever you go, there you are."
Becoming an expatriate requires some adaption and flexibility, but can be especially challenging for children. In the end, parents play the biggest role in helping ease the anxiety and sense of disruption for the kids, and can take steps before, during and after the journey to their new home.
Give them plenty of control.
ExpatFocus, an online resource for people moving abroad, suggests that instead of letting them focusing on everything they must give up by leaving their hometown, get the kids involved in many of the decisions of what they're going to be gaining and the fun adventure ahead. If you're shopping for a new place online, for instance, give them a vote. Even better, let them pick which rooms will be theirs and let them decorate in any way they want. This will also build up the anticipation for something new and positive instead of a sense of regret, loss and feeling of instability.
Give them a title.
While the adults work on all the little stuff, assign a child or a couple of children the position of navigator/guide to the new land. Load them up with maps, guidebooks and language/cultural information. When you get to the new destination, ask them to show off what they've learned about your new community to help the whole family get acclimated, like common points of interest, community areas or even interesting local history. They'll feel important with that extra responsibility, and feel like a good participant in the transition. A teen could be perfect for this, but even a young child can make some fun drawings.
Invite them to keep existing friendships alive.
Rather than requiring them to permanently sever all relationships with former classmates or neighborhood friends, help them figure out different ways to stay in touch with friends, whether it's by collecting everyone's emails or arranging Skype sessions. Even starting a public blog might a fun way to their friends to share the day-to-day of the new journey.
Start learning.
You may be in a location where the best education option is an online course. An online program like Penn Foster can makes it easy for kids to earn an accredited U.S. high school diploma from a home computer.
Find other kids.
Whether you're in the military or working for the government or a multinational company, there will likely be other American families who have been in your shoes or residents of your new country who are curious about the new transplants. There are also likely foreign versions of some of the programs you left at home, such as the Boy Scouts or Girl Scouts, according to the World Association of Girl Guides and Girl Scouts. Involve your children in their favorite sports or programs, and they'll forget they're doing what they love in a foreign place.
Find other parent groups.
According to the Association of Americans Resident Overseas, there are 6.6 million Americans living abroad, so there are all sorts of support groups, national interest groups or even social clubs worldwide. Some are focused on political topics like taxation or voting rights, but some, like the Federation of American Women's Clubs Overseas, are designed to support families, including making it easier for new arrivals to adjust.
Kimberly Bryant Web developer, freelance writer, mother.