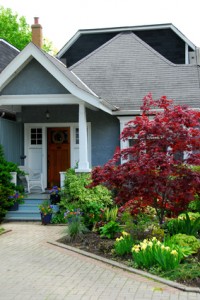 Moving in?  Here are four tips to make your new home yours.  The life and mood of a room depends entirely on its decor. You probably noticed how different the rooms in your old house looked after everything was packed and loaded. Now your children's bedrooms—once very distinctly girly and boy-friendly—look identically bland and empty. This might seem discouraging, but it can actually act as positive reassurance, pointing out the potential of your new home. You won't be able to create a Pinterest-perfect living room a week after moving day, but there are a few quick ways you can make your house more like a home.
1. Clean up
If you're renting, the landlord should technically have the place spotless when you move in, but dust builds quickly in an empty home. If you bought a foreclosure, you may be in for much more work. Whatever the case, there may be some overlooked areas that will be hard to reach once all the furniture is in place so it is good to set a cleaning day. Some hot, soapy water and disinfectant will give your home a fresh feeling and ensure peace of mind. Lowe's has some detailed cleaning tips. Don't forget the fragrances! Take the extra time to pick up some of your favorite air fresheners and perfumes to create a familiar feeling in the home.
2. Bring loved ones in
The task of unpacking seems a lot more formidable and depressing when you're faced with blank walls and big empty spaces. You can't begin thinking about personalizing your home with decor just yet, but there's a unique way you can make your house feel like somewhere you belong: throw an empty house painting party. It can be restricted to just a few areas like the kids' rooms or the game room, or if you live in a small space, go all out and race to finish the entire place. Invite friends and family over to make their own artistic contributions, so you can create an air of love and community right from the start. Added bonus: some may be willing to stay and help unpack!
3. Decorate with flowers
Most people unpack the basics first: tables, chairs, beds, couches, dressers…but without all of the usual embellishments that make these items theirs. Because unpacking aesthetic belongings is often low on the priority list, you can add some life into the room in the interim with flowers. Order colorful flowers online through FTD.com to save time scouring for the local florist. Think tulips, daisies, roses, daffodils and anything that brings a breath of fresh air to the room.
4. Get organized
Remember all those years you vowed to take everything out of the cabinets and closets and put them back in a nice orderly fashion? Well, there's no better time to organize than when you are unpacking. Add a second shower curtain rod in the bathroom to hang baskets that could hold toiletries or linens. Use magnetic racks to hang kitchen knives and other small utensils. Non-magnetic items can simply have a magnet glued to the back for easy storage. Everyone feels relief and comfort in knowing their home is in order and stress-free.
Jessica Turner is an interior decorator, part-time real estate agent and full-time CrossFit enthusiast.