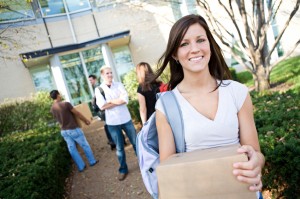 Moving to college or university?  Graduation is around the corner and many of our high school seniors are about to embark on college and university.  It is a spectacular time.  Time of independence, excitement and some apprehension.  As those acceptance letters arrive, I can't emphasize the importance of visiting the campus before making your decision.  It is something you really want to include in your budget.  Recently, I had the privilege to speak with Mary, Coordinator of Campus Visits and Events from UC Denver with regards to a book I am writing.  She was a wealth of information but the prominent message out of the entire conversation was the importance of the campus culture.  Most students will assimilate successfully if the campus culture 'fits'.  The only way to know this is to visit and take part.  Make it a family vacation.  Enjoy the time with your student.  This may be the last 'true' family vacation you may have together.  So, enjoy it.  Relish your time together.
While you are exploring the campus, take the time to note what you like and don't like about the environment.  Take pictures and notes.  This way when you return home you will have a point of reference.  Review your housing options when you are there.  This is critical.  Take tours of the dorms and facilities.  Find out the times of service.  If your student will be working, this will be vitally important.  With all the talk of student loans, it is important to evaluate the costs involved and see if there are ways to cut expense.  Look at transportation options.  Be cognizant of how far housing may be from classes.  It may not be significant now in summer but think about what it will be like in the dead of winter.   Speaking from experience, riding a bike in winter is not always recommended.
Apart of evaluating all of the campus culture is looking at the surrounding area.  Is it an urban campus that is integrated into city life?  Is it a rural campus that will require travel to get away from the college environment.  How close are community services and conveniences like a hospital, dry cleaner, pharmacy and entertainment and shopping?  MovinGal can help give you the lay of the land before you get there.  Take the time to familiarize yourself online before you go.  This way you will have an understanding if that campus will meet your expectations.
Going to college and university is a wonderful opportunity and making the right decision will make an enormous difference in your experience.  Therefore, taking the time to do your due diligence will make it worth your while.  Think twice about whether you are going to a particular school to follow your best friend or your significant other.  Remember you will change and grow and these include relationships.  If your relationship with that person is strong enough, it will last.  This is the time in your life to be selfish.  For the world is your oyster….enjoy all of it!