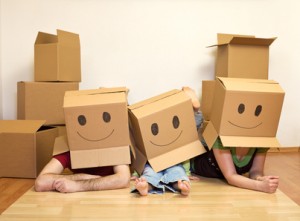 Moving abroad? An international move can be a great opportunity when you have to go for business, military or mission work, but it can be a tough decision when you have small children. When you were younger and single you'd have jumped at the opportunity to live in an exciting new country, but with a family in tow the thought of relocating your kids causes concern.
Kids are resilient, though, and the numbers reveal that they actually do quite well living abroad. An HSBC Bank International survey revealed that kids living overseas make new friends fairly easily, adjust well to foreign school systems and cultures, are more apt to learn a foreign language and have the advantage of better education. Knowing that your kids are likely to be just fine in a new country helps, but there are things you can do to help them adjust and (almost) seamlessly transition to living abroad.
Learn the Language
Unless you're moving to an English-speaking land like England, Ireland or Australia, it will benefit the entire family to be somewhat fluent in the primary language of your new country. Before you even leave U.S. terra firma, make it a family activity to learn the appropriate language using an app or foreign language program. PC Mag says you can find free and low-cost mobile apps for singular languages, such as Conjuverb for Spanish (.99 cents) or Human Japanese Lite for Japanese (free trial subscription). If you'd prefer an app that supports multiple languages, Duolingo is free and has English, French, German, Italian, Portuguese and Spanish options. Rosetta Stone or Rocket Languages are programs that cost $100 or more, but may be worth it if you're looking for a more comprehensive program.
Setting Up Your New Home
You'll take some of your belongings with you to your new home overseas, but it isn't worth it to pack up lock, stock and barrel and transport every last bed sheet and stick of furniture to a different country. Let your kids pack their bags with some of their favorite things from home to keep the transition smooth. Remember that an international trip is tough on your bags, so make sure you have sturdy luggage to transport your valuables. Decide what will go with you and what should go into storage, then get the kids invested in the overseas house by including them in furnishing their new expat abode. Make family decisions on styles of furniture and decor, especially when it comes to outfitting the kids' individual rooms.
Research Your New Country/City
Going to a new country will feel more like coming home if your kids know as much as possible about where they're going to live. Use online resources such as Homework Spot to learn about the culture, facts on geography, national profiles and even national flags and treasures. Make a game of it by assigning each child a topic and challenging them to find out as much as they can to report back to the family.
Facilitate Contact Back Home
Your kids will be less homesick overseas if they stay in contact with friends and family back home. Moving website Upack offers up a list of options for staying in touch long distance aside from the obvious ones such as FaceTime and Skype. Through WhatsApp Messenger, for example, you can send and receive video and pictures as well as text messages including international texts, and it has a group messaging option. HeyTell sends short voice messages, kind of like a text that's verbal, for those times when a phone call isn't necessary but you just want to say "hey."
Brett Masey  grew up the kid of missionary parents and now works for a global food relief program.