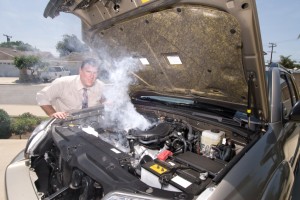 PCSing or Moving to a very hot climate?  For those of you relocating to a warmer climate from a colder one, there may not be too much of a transition for you and your vehicle.  However, if you are moving to a place with high temperatures in the summer you may want to consider a few things.
When my family and I moved to Vegas from California, we learned a few things about the heat and our car the hard way.  So please learn from our mistakes.  When it gets over a hundred ten degrees, anything you put in your car can melt.  Just like you would not even consider leaving soda in your car in freezing temperatures because it can explode, don't leave things in your vehicle when it is that hot.  This includes your DVDs and CDs.  They will warp and melt and be ruined.  If you leave these in your player in your vehicle you may not be able to get them out, which is another costly mistake that can be avoided.
Also don't leave candy or other treats in your car.  They will melt so quickly and make a huge mess.  We learned the hard way when my husband left a bag of open gummy bears in the car and it melted.  What a mess that was to clean!
Further, when the temperatures start to soar, definitely consider purchasing sun shades for your vehicle.  After constant exposure to the sun and heat, you dash board on your car can crack, which is another costly mistake.  The sun shades also prevent your seats from getting scalding hot.  Trust me they will still be hot but not as hot as direct exposure to the sun.  Once you move, you may also want to consider checking your car's fluids to make sure nothing is low.  You definitely do not want your car overheating in those conditions.