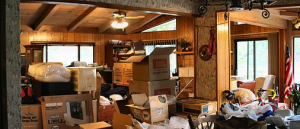 Showing your house and going through a divorce?  It is funny how life has a way of going full circle.  Several years ago when we were house shopping in Henderson, Nevada, we purchased a home from a woman going through a divorce.  I remember going to the showing and being so judgmental.  Why was her kitchen not clean?  Why didn't she pick up after the dog?  Look at that disgusting bathroom.  Now, don't get me wrong.  I am not saying throw caution to the wind when showing your house, but I have a new empathy for anyone showing a home and going through a divorce.
When I went to see that home in Nevada, which we ended up buying, I had just sold a house in California.  Again, I was a trailing spouse and was left to sell the house with three babies four and under.  It was exhausting, difficult and time consuming.  I had to go to my parent's house for two weeks to recover.  This may seem melodramatic but keep in mind I had Nate at the very end of October with a c-section, he was back in the hospital with RSV in December and the house went on the market in early January.  I was left by myself to stage a house, meet with movers, pack and do showings.  Even with all of that stress and exhaustion, it was still not as difficult as this move that I am doing now.
I have done this time and time before.  Keeping the house in pristine condition.  Lights, camera, action before every showing.  However, for some reason I just don't have the chutzpah.  Granted the house is impeccable and I have enlisted the help of my three boys now that they are older.  It's still different.  I feel like an actor before dress rehearsal, who hasn't been given the lines.  There are so many unknowns in divorce that it makes daily tasks more difficult than it really should be.  This is different.  It is an exercise in putting the past behind you.
Looking back, I want to apologize to the woman who we bought that house in Nevada.  She deserved my empathy and not my judgement.  She has put her past behind by now, I'm sure and someday I will have that luxury as well.  In the meantime, I will continue the good fight until this is over.  For all of you walking my mile, know that you are not alone.  Take it one day and one box at a time….