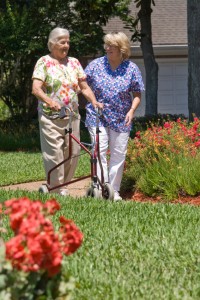 When I wrote this post several years ago, little did I think I would be walking this path with my family so quickly.  My mother, who I adore suffers from Alzheimer's Disease.  This evil thief has taken the best parts of her and left her with little.  It has been heartbreaking to watch.  My father, whose love for her is unwavering came to the realization that he could no longer care for her at home.  It was an extremely difficult decision to make but once he did things were put into motion in short order.  My dad is extremely organized and proactive, which made everything easier. He remained in the home and we moved my mother into the assisted living facility, which helped because we did not have to deal with downsizing.
Once the difficult decision is made, know that you may be inundated with many tasks that will require action.  Depending on the condition of your family member and previous planning, this may be easily done or not.  Logistics, emotion and insurance will play a role.  When preparing for this, ask yourself several questions:
Does my loved one have long-term care insurance?  If so, what is covered?  What facilities are a part of their policy?
What level of care is required?  What are the locations of these facilities?
Is there another loved one remaining in the home?  If not, how much downsizing is required?
Has your loved one discussed their plans with you?  Do they have the capacity to make decisions for themselves or not?
Does your loved one have a living will?
Is your loved one prepared with giving away their sentimental things now?
How much room will your loved one have available?  What does the facility allow?
Does your loved one have a pet?  Does the facility allow for pets?  If not, what does your loved one want to do with the pet?
It will be important to come to terms with the fact that it will be very difficult for you and your loved one to part with many items and transitioning into their new life.  Being respectful of what holds significant sentimental value and ensuring the care of those items will really help with the transition.  If your relative is able to participate, help them go through their items, understanding that some of their things may be stashed all over the home.  Getting them organized will be key.  Also, find a way  to help them part with their things that they can't take with them.  Find a charity or cause they support and advocate a donation to help that organization.  Offer to give it to a relative that they really want to have it.  This will help them swallow that bitter pill of moving on.