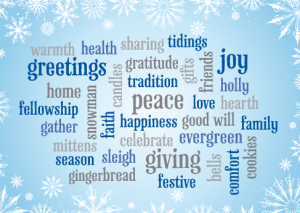 Moving during the holidays?  Bah Humbug!  Some of you may find yourself in the midst of a move this holiday season and I can completely empathize.  Moving during the holidays poses some additional stress and logistics.  The best advice I can give is to give yourself grace and accept that all of your normal holiday traditions may be on hold.  Take on what you can handle and let the rest go.  The best thing about social media is that you can let everyone know about your new contact details without having to use snail mail.
As many of you know, I went through a divorce last year and lost my mother this year.  There is nothing like a divorce and the death of your mom to humble you and put things in perspective.  After that, who cares about holiday cards and lights? At least my tree is up.  What's important to me is making my boys happy and enjoying our health and blessings we have been given this year.
So, even if you are hurdling over moving boxes to get to the kitchen, you can still enjoy the holidays.  Consider this a year where you don't have to host the holiday party, you don't have to send out holiday cards and forget the holiday baking.  Your friends and family will understand.  If not, it's their problem, not yours.