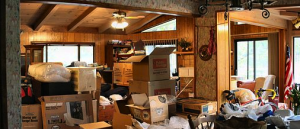 I love to travel and thought my sense of adventure was all I needed to transition smoothly to a new location last year. But one Saturday afternoon, a few weeks after my recent move, I found myself in a near panic as I drove around the neighborhood with an empty tank looking for a place to gas up my car. It was then I realized a sense of adventure is important, but a little planning can go a long way.
Finding the box with your favorite coffee mug and figuring out the best route to work can seem like huge accomplishments when you're still experiencing the stress of a new move. But there's much more to life than getting to and from the office. Here are eight tips to help you acclimate to your new hometown and enjoy it to the fullest.
Get Unpacked
This might seem like a no-brainer, but many people delay unpacking and end up living out of boxes for weeks or months. Not only is this stressful, but it leaves you feeling somewhat incomplete. If you're downsizing or overwhelmed with stuff, move non-essentials into a storage unit until you can focus on them. Make your home a "home" as soon as possible.
Reconsider Your Car
Evaluate the practicality of your current vehicle in your new city. If moving to a major city like New York or Chicago where parking is hard to come by, a subcompact car will be easier to park that a full-size sedan or an SUV. In cities where a lot of driving is done on highly trafficked freeways, an eco-friendly hybrid may offer more-efficient mileage than your current ride. Once you've found a new model that suits your needs, trade in your car at a local dealership to save more on your new vehicle.
Be a Tourist
What's your new city's claim to fame? What do visitors line up to see or eat when they arrive? Do those things! Explore your new home from the perspective of a visitor and you'll not only learn how to navigate the streets but you'll learn about the city's history and culture.
Be a Neighbor
Talk to the people in your building, on your block, in the neighborhood pub and at the grocery store. You don't have to announce yourself as a newbie to everyone you meet. But by saying hello, asking someone else how long they've lived in the city or where they're favorite park is you can learn interesting things about your new home that a map will never tell you.
Listen to the Radio
Turn off the TV and listen to a local radio morning show when you're getting ready for work. Not only will you learn about upcoming events and annual traditions, you'll also learn a little something about the political controversies and humor of your new community.
Join a Club
If you've always wanted to learn how to cook, tango or become a birdwatcher, now is the time. Moving to a new city gives you the opportunity to reinvent yourself, and joining a club is a great way to do that. You'll meet people who share an interest, start making social connections and fill up some of that empty time that seems to gather after all the boxes are unpacked.
Mom and Pop It
Shop at locally-owned businesses instead of chain stores as much as possible. The familiarity of a chain store is tempting when you're in a new city, but seeking out Mom and Pop shops, farmer's markets, independent bookstores and coffee shops will speed up your feeling of connection to the city and make you feel at home.
If relocation is in your future or recent past, you're probably nervous, excited, happy and sad. Having conflicting emotions about a move is normal, but don't let those emotions keep you isolated in your new apartment. Take a walk through the neighborhood or a drive through town — just make sure you know where the closest gas station is before you drive too far.
Getting to know your community goes a long way. MovinGal can help you navigate your new area and put you in contact with your nearest services.  From dentists to dry cleaners, it is all there in one convenient location to help you get settled faster.
Tammy Cooper writes about a variety of topics and loves the challenge of finding unique stories on the Internet. She loves to cook, sew and travel.