Forwarding your mail to a P.O. Box has been a popular post for many of you.  In order to ensure that I continue to give you the latest information, I wrote to the USPS and they were very gracious in responding to me with some great tips.  Also, they confirmed the procedures that I spoke of in this post remain the same, with the added benefit of renting and renewing a P. O. Box online, which makes life significantly easier.
Handling your mail will be one of the important items on your checklist when moving.  Unless you have an immediate forwarding address, a post office box remains the best alternative.  If you are moving within the same county or state, visit usps.com and type in your new zip code to see where the closest post office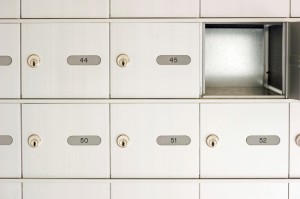 is to your new home.  If you are moving within the same county, you have the luxury of familiarizing yourself with your new community and go to the post office and open the post office box.  To make it easier, you can download the forms ahead of time and fill them out.  Make sure to bring two forms of identification along with the forms to pay your fee and get your keys.  This way you can begin to forward mail to the post office box before you move.  The shortest rental period is six months. For more details, see usps.com.
If you are moving to a different state, it is essential to open up a post office box in your new location so you have a place to forward your mail.  Since you may not have an exact location where you may be living, you will have to estimate what post office is best suited for you, which may be closest to your new job.  You can download the application ahead of time to open up the post office box and take it with you to your current post office.  You must bring with you two forms of identification.  You may have to mail your rental fee to the new post office and you can get that address from your current post office. Once you turn in your application and show your identification, the post office has three days to verify your credentials.  At that point, someone from the post office should call you to let you know that you have your post office box.  If you do not receive the phone call in three business days, I suggest you go back to your post office and speak to them.  They may be able to look into it and expedite matters.  Either way, make sure they give you your new post office box address so you can begin to forward mail to that address.  Once you move, you can then go to your new post office and collect your keys and forwarded mail.
If you have the luxury of going to your new location ahead of time for a home search or visit, you may want to go to the new post office and open the post office box then.  However, it may be difficult because you will not have a local address and you will have an out-of-state drivers license.  It is best to handle it with your current post office before you move.