Moving?  Selling? Staging your home is key.  I am sure many of you have seen episodes on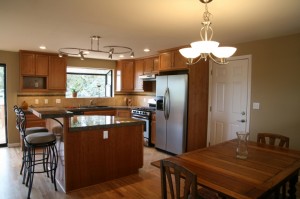 your favorite home and garden show that discusses home staging.  There are many low-cost ways to stage your home without hiring a professional.  Depersonalizing your home is often mentioned, but what does that really mean? Let's put it this way, it definitely goes beyond taking down some family photographs.
The way to think about depersonalizing your home is to think that your home will no longer be yours once it is sold.  This can be very difficult for some, especially if you have been in your house for an extended period of time.  However, once that mental shift takes place of seeing your home as a commodity, you in a better position to sell it.  It will help you stage your home to appeal to the most buyers.  It may not be your taste, but it does not matter because you will no longer be living there once it is sold.
Take a look at your home from an outsider's perspective.  Although you may love your southwest decor or orange walls, most folks prefer a more neutral palate.  Therefore, it is definitely worth repainting and redecorating your space to appeal to a greater number of buyers.  There are many low-cost options out there to update your home.  Target, Walmart, IKEA and HomeGoods all offer great decorating items at reasonable prices.  If decorating is not one of your talents and an interior designer or home stager is not in your budget, ask a friend who you think has a knack for that to go shopping and help you.  This will be invaluable and take full advantage of their help.  If you use a realtor, you can ask them for their professional opinion and try to incorporate some of their tips.  Remember, you both are on the same team with one goal in mind, which is to ultimately sell your house. Therefore, do not take what they have to say personally, but rather understand that their constructive criticism is to help you sell.  See the sale of your home, as closing a chapter in your life, which gives you the opportunity to open another where you can make your new place even better.
For further tips, see HGTV's 15 Secrets of Home Staging photo gallery.